Nossos serviços estão apresentando instabilidade no momento. Algumas informações podem não estar disponíveis.
Description
Georeferenced database that aims at being a reference to the current basic terrestrial mapping in the country, with information on its characteristics and production processes.
Technical Information
Technical Documentation
Technical Notes
About the publication - 5th edition
A set of information intended to serve as a reference to cartographic products prepared by the Cartography Coordination of the IBGE Directorate of Geosciences, including the topographical sheets of systematic terrestrial mapping; continuous cartographic bases of Brazil and its states; image charts; orthorectified images; thematic maps of geographical indications; Brazil, regional and state maps (physical and political); orthomosaics from aerial photographs and from satellite images and Digital Elevation Models.
More on the product - 5th edition
Download the product on:
Interactive Geographic Platform
Learn more - 5th edition
O Mapa Índice Digital em sua versão 2021 está estruturado em arquivo no formato GeoPackage, para uso do produto em ambiente de Sistemas de Informação Geográfica (SIG). Este formato de dados abertos para armazenamento de informações geoespaciais foi desenvolvido pelo Open Geospatial Consortium.
Nesta estrutura, para cada produto listado é possível visualizar sua abrangência espacial; consultar informações sobre o ano de sua publicação, escala disponível, extensão territorial, entre outras. Por meio dos links presentes na tabela de atributos, é possível fazer o seu download via Portal do IBGE e explorar seus metadados diretamente no portal do Catálogo de Metadados Geográficos do IBGE.
News and Releases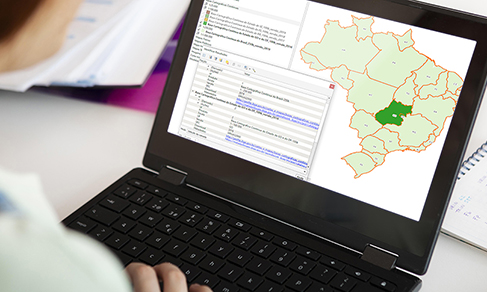 See more releases